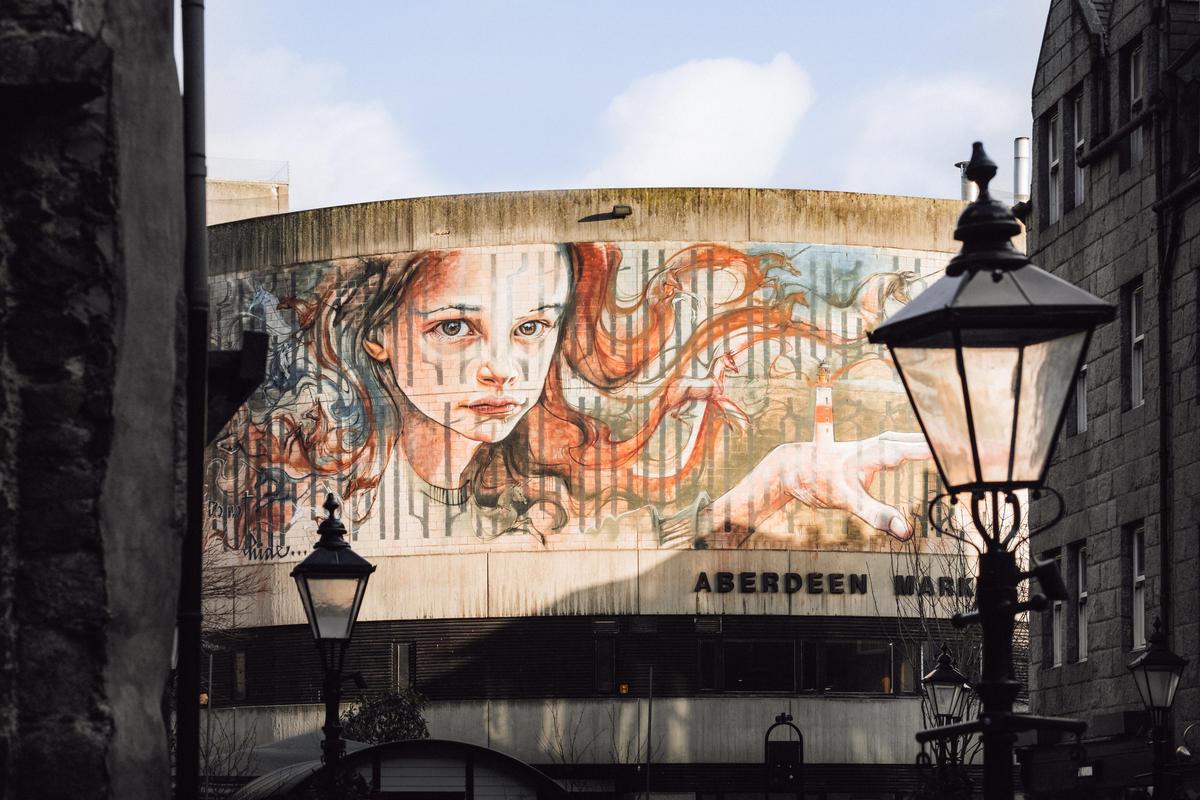 The festival came about thanks to a close collaboration with Nuart in Stavanger, Norway, where it began back in 2001. The festival links the two cities, which share a legacy of being gateways to the North Sea and its oil fields. Now the two cities share an energy around celebrating art that has its roots in graffiti, murals, comic culture, stencil art and activism.
Aberdeen Inspired brought the Nuart festival to the city, in partnership with Nuart and Aberdeen City Council. And it looks set to continue until at least 2020, with £600,000 committed to its delivery. The festival has also been supported by a wide range of local partners including Burness Paull and The McGinty's Group. 
Adrian Watson, Chief Executive of Aberdeen Inspired, is rightly proud of the festival:
"Nuart Aberdeen has left an incredible legacy in our city and we can't wait to bring it back. Already it has changed the perceptions of both locals and visitors to Aberdeen and achieved worldwide acclaim."
Widely considered to be the world's best celebration of street art, the festival has already won numerous awards, and research has revealed that 98% of visitors rated the festival as excellent or good and 96% of visitors stated they would recommend the event to friends and family.
After the main event in April, the street art can be explored and enjoyed by people all year round, and free guided walking tours run every week from April to September.
"Over the summer, more than five thousand people have enjoyed the guided walking tours. And not just local people, but visitors from across Europe and around the world who will have spent time discovering everything that the city centre has to offer."
But it's not just Nuart that is bringing the city to life. Granite Noir, Aberdeen's crime writing festival, is in its third year in 2019 and offers a platform for local, national and international authors to showcase their dark arts to bloodthirsty fans. 
Meanwhile, Aberdeen Comedy Festival will welcome legendary funny man Ben Elton as headliner of its fourth annual event. Elton kicks off the city's celebration of humour with a set at the Music Hall, which reopened in late 2018 after a two-year, £9million refurbishment. Presented by the city's Aberdeen Performing Arts (APA), Ben Elton's date joins Aberdeen Inspired's festival line-up, which includes acclaimed stand-up comedians Jimeoin and Daniel Sloss.
"It is a huge coup for the city, Aberdeen Comedy Festival and APA to have secured such a big name. Being a part of Ben's return to stand-up is a tremendous honour and we are very much looking forward to him being the opening act at our fourth festival."